Precision AC current sensor
Features
1. Accuracy 0.2% full scale
2. Adopt threaded structure, easy wiring
3.Using permalloy core with super high permeability, the induction frequency
range is 20Hz~100KHz
4. Input and output insulation withstand voltage 2 thousand volts/1 minute
5. Impulse voltage test 5 thousand volts
6. Surge voltage test 2.5 thousand volts
7. Low price, small size, high stability
8.5A/2mA, 50A/20mA ,100A/40mA ,200A/100mA
9. Cable 1.8M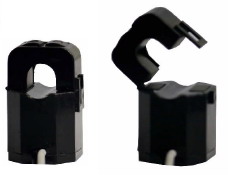 <![if !supportLineBreakNewLine]>
<![endif]>

Hook type precision AC current sensor
Features
1. Accuracy 0.2% full scale
2. Using hook structure, easy wiring
3.Using permalloy core with super high permeability, the induction frequency
range is 20Hz~100KHz
4. Input and output insulation withstand voltage 2 thousand volts/1 minute
5. Impulse voltage test 5 thousand volts
6. Surge voltage test 2.5 thousand volts
7. Low price, small size, high stability
8.60A/20mA ,120A/40mA ,600A/200mA
9. Cable 1.8M
AC current sensor (specific current device)
Features
1. Accuracy 1.0% full scale
2. Adopt threaded structure, easy wiring
3. Current transformer is produced according to IEC-185 standard
4. Rated secondary current: 5A (or 1A)
5. Working temperature range: -20℃~+45℃
6. The shell is made of ABS plastic
7. Low price, high stability
8. Current specification range 20~3000A



<![if !supportLineBreakNewLine]>
<![endif]>

Square AC current sensor (specific current device)
Features
1. Accuracy 1.0% full scale
2. Adopt threaded structure, easy wiring
3. Current transformer is produced according to IEC-185 standard
4. Rated secondary current: 5A (or 1A)
5. Working temperature range: -20℃~+45℃
6. The shell is made of ABS plastic
7. Low price, high stability
8. Current specification range 20~600A
Open-type AC current sensor (comparator)
Features
1. Accuracy Class 0.5, Class 1.0
2. It adopts an open structure, easy wiring, no need to disassemble the old wiring
3. The standard adopts IEC44-1, BS7626
4. Primary current 100A~5000A
5. Secondary current 1A or 5A
6. Rated load 1.5VA~30VA;
7. Maximum voltage 0.72kV / 3KV
8.Frequency 50/60Hz
9. Hour thermal current Ith = 100xIn
10. Safety factor FS <5
Open-type AC current sensor (comparator)
Features
1. Accuracy Class 0.5, Class 1.0
2. It adopts an open structure, easy wiring, no need to disassemble the old wiring
3. The standard adopts IEC44-1, BS7626
4. Primary current 100A, 150A, 200A, 250A, 300A, 400A, 600A
5. Secondary current 1A or 5A
6. Rated load 1.5VA~30VA;
7. Maximum voltage 0.72kV / 3KV
8.Frequency 50/60Hz
9. Hour thermal current Ith = 100xIn
10. Safety factor FS <5
11. The secondary side output adopts terminal wiring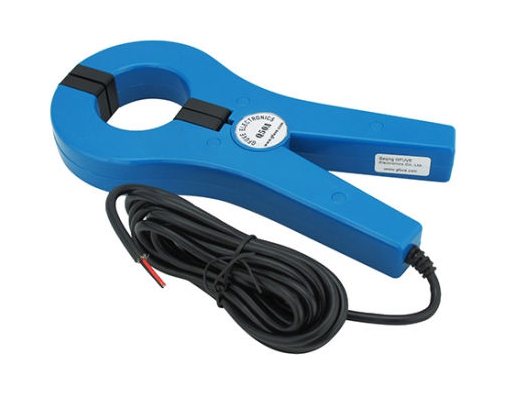 Q50A Clamp-on AC current sensor (comparator)
Features
1.Suitable for online measurement of 1000A cable
2.Holding wire diameter: φ50mm
3.Size: 101×219×26 mm
4.Load capacity: 5A output 2.5VA
5.Installation method: clip-on
6.Output mode: lead output
7.Maximum input current: 1200A
8.Accuracy grade: 0.1%, 0.2%, 0.5%
9.Secondary current: 5A
10.Frequency range: 40Hz-2000Hz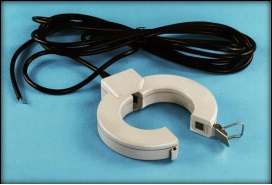 RCT070


Ring type split type AC current sensor (converter)
Features
1. Accuracy Class 0.5, Class 1.0
2. Open structure, easy wiring, no need to disassemble the old wiring
3. The standard adopts IEC44-1, BS7626
4. Primary current 100A~800A
5. Secondary current 1A or 5A
6. Rated load <=3VA
7. Maximum voltage 3KV
8.Frequency 50/60Hz
9. Hour thermal current Ith = 100xIn
10. Safety factor FS <5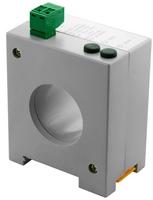 Two-wire AC current sensing converter
Features
1.Model: PTC
2. Output signal: DC 4∼20mA 2Wires.
3. External voltage: DC 9∼36V (2Wire System)
4. Accuracy: ±0.5% RO
5.Using range: ≦600A
6. Input frequency: 10∼400Hz.
7. Input impedance: 760Ω (Supply DC 24V)
8. Isolation ability: 2.6KV/Min (Input / Output / Case)
9. Impact wave: 5KV (Insulated Cable)
10. Insulation resistance: ≧100MΩ/DC 500V
11. Temperature coefficient: ≦0.01% FS/℃ (100PPM)
12. Adjustment range: ≧ ±5% (Zero and Span)
13. Applicable environment: -10℃ ∼ +65℃ 20 ∼ 95% RH non-condensing.
14. Shell material quality: non-combustible ABS injection molding-in line with UL 94 CLASS V0
15.Fixed method: track fixed.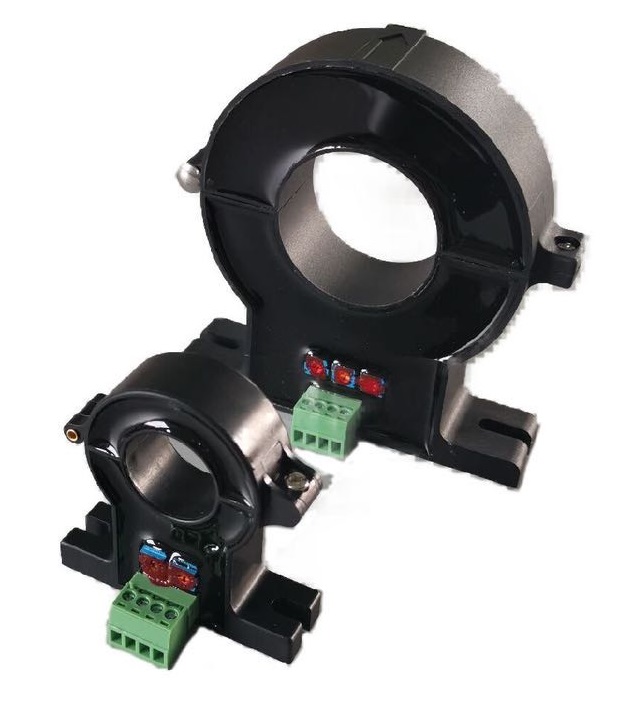 Open-type Hall current sensor
Features
It is suitable for the isolation conversion of complex signals such as AC, DC, pulse, etc. The converted signal can be directly collected and accepted by various collection devices such as AD, DSP, PLC, and secondary instrument through the principle of Hall effect. The response time is fast and the current Wide measurement range, high accuracy, strong overload capability, good linearity, and strong anti-interference ability.
1.Measuring current: AC/DC 20~1000A
2.Output signal: Voltage output +/-5V at DC
Current output DC 4-20mA
3.Accuracy: <+/-1.0% F.S. (@25'C)
4.Power supply: +/-15V, DC12V, DC24V
5.Frequency range: DC~100KHZ
6.Insulation withstand voltage: 5KV effective value/60HZ/1 Min
7.Zero offset: <+/-10mv, <+/-0.04mA
8.Response time: <10u Sec
9.Working temperature: -25~85'C
10.Storage temperature: -40~85'C
11.Current consumption: 10mA
12.Material quality: PBT (UL94-V0)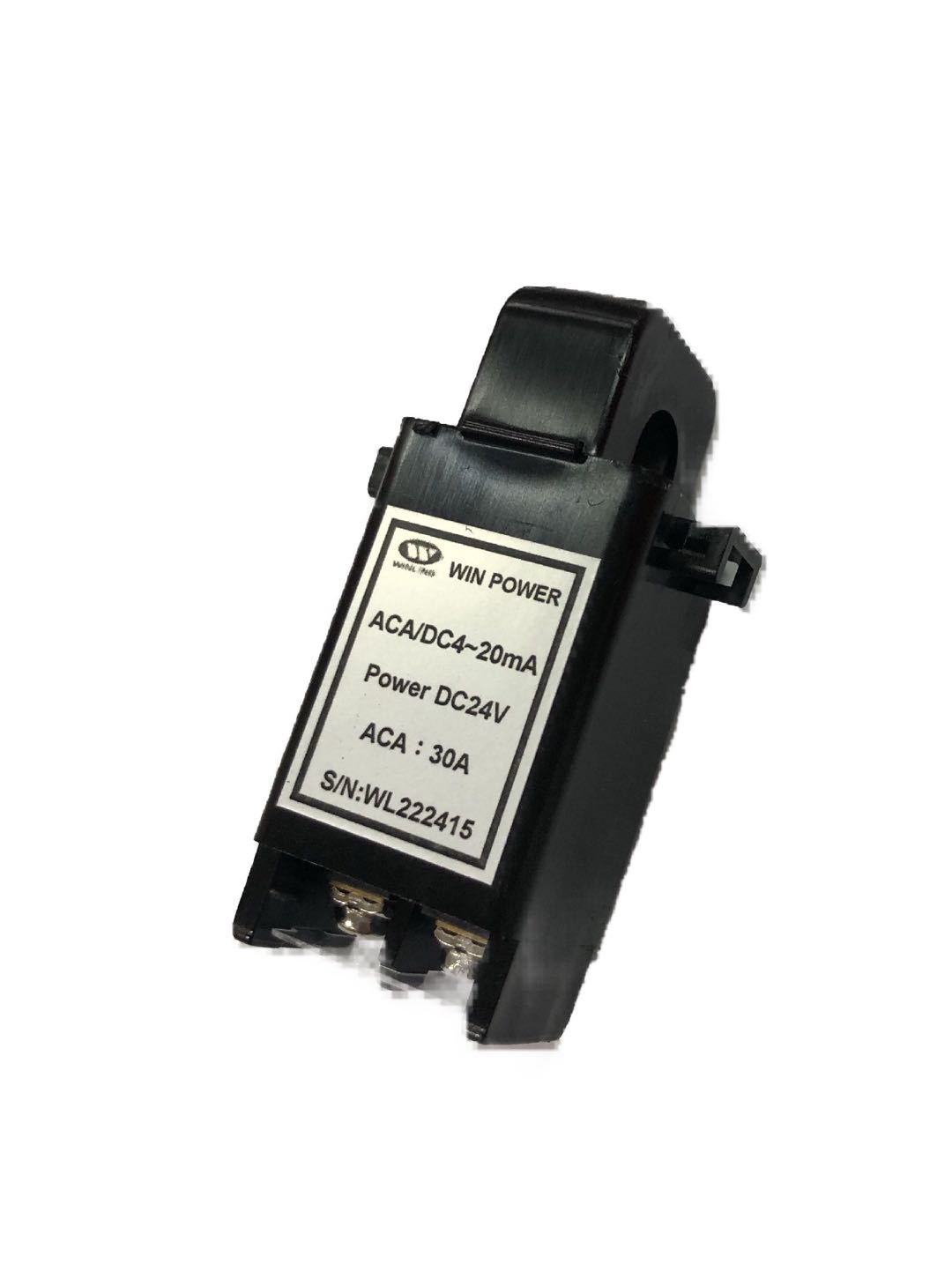 Open type AC current signal converter
Features
1.Measuring range: AC10~80A (50/60HZ)
2.Output: 4-20mA
3.Accuracy: +/-0.5% F.S.
4.Power supply: DC24V
5.Opening diameter: 10mm
6.Material: non-combustible ABS injection molding-in line with UL 94 CLASS V0
7.Withstand voltage: 1KV/1 Min
8.Insulation resistance:> 10MOHM at 500VDC
9.Operating temperature: -10~50℃, <80% RH
10.Storage temperature: -20~60'℃, <70% RH